Peaceful Wellness Institute has launched a new course membership and we invite you to participate. This membership gives you access to all of the courses available on Peaceful Wellness Institute (except the Mindfulness Meditation Teacher Training and the Inner Guide Training).
If you would like to support your meditation practice with courses from a seasoned teacher and practitioner, enroll in this memebership so you can learn the techniques and deepen your experience. Mindfulness meditation helps you to see clearly, be compassionate with yourself and others, and learn to respond vs. react in situations.
There are currently 24 courses and each month one or two courses are added. You will find courses on stress and anxiety, physical and emotional pain, self-compassion, and others. Upcoming courses include "Better Sleep" and "Making Peace with Your Body."
You also have access to "How to Use a Singing Bowl in Your Practice" and "Healing and Balancing the Chakras" and other courses in development.
Your monthly membership of $14.99 includes all of these and you have access to all the courses as long as you are a member. Sign up today before the monthly rate goes up!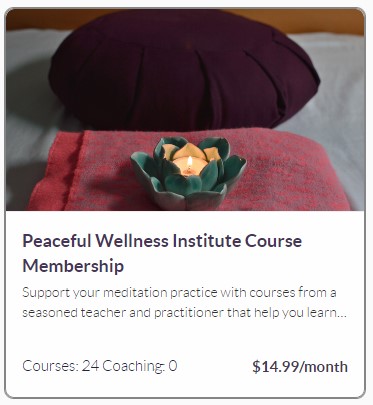 I hope you will join in the membership and continue to explore and strengthen your practice. I'm always here to answer your questions. Deb Phelps
Founder of Peaceful Wellness Institute
deb@peacefulwellness.org